Human Body Parts Name (मानव शरीर के अंगो का नाम) | Name Of Body Parts: We all have our own body but do you know all parts name of body in English-Hindi? learn here about Human body parts name in English and Hindi (मानव शरीर के अंगो का नाम), Male and female body part name.
We all have a body or you can say that we all have our own bodies. But you know this thing that there are many parts of our body. That means our body is made up of many parts.
All parts of our body do many important things. For example, if we do not have legs, how will we walk? how will we eat food, how will we drink water if we do not have a mouth? Likewise, how will we breathe if we do not have a nose?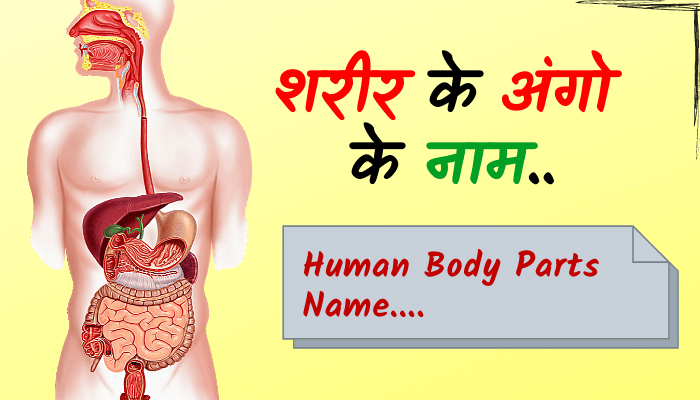 That is, it is clear that there are many parts of our body and all these parts do many important tasks by which we are able to survive and do our work. Most of us do not know what is the name of all the organs of the human body and this is quite wrong. We must know the name of all parts of our bodies.
Well, don't you also know the name of the human body parts? No problem. Don't panic Because, in this post, I am going to tell you the name of all the parts of the body in both Hindi and English languages. So, to learn about human body parts name (Name of body parts) | शरीर के अंगो का नाम, keep reading.
First, look at the image given below. the name of all basic body parts has been mentioned in the image after the image you can learn all body part's name in Hindi and English list.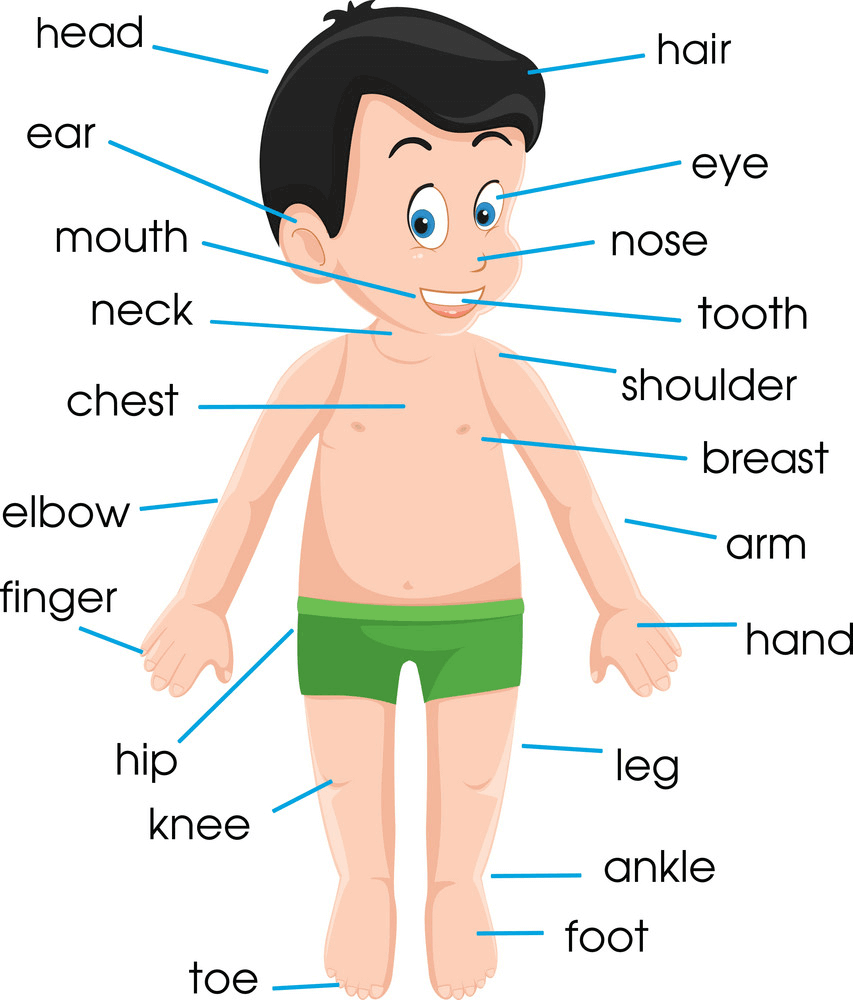 Human Body Parts Name In English-Hindi (मानव शरीर के अंगो के नाम)
Body Parts Picture
Body Parts Name In English
Body Parts Name In Hindi
Face (फेस)
चेहरा (Chehra)
Eyes (आईज)
आँखे (Aankhe)
Eye (आइ)
आँख (Aankh)
Eyebrow (आइब्रो)
भौं (Bhaun)
Tongue (टंग)
जीभ (Jeebh)
Mouth (माउथ)
मुँह (Munh)
Teeth, Tooth (टीथ, टूथ)
दांत (Daant)
Lips (लिप्स)
होंठ (Hoth)
Cheek (चीक)
गाल (Gaal)
Nose (नोज)
नाक (Naak)
Forehead (फॉरहेड)
माथा (Maatha)
Hair (हेयर)
बाल (Ball)
Shoulder (शोल्डर)
कन्धा (Kandha)
Back (बैक)
कमर, पीठ (Kamar, Peeth)
Stomach (स्तोमच)
पेट (Pet)
Throat (थ्रोट)
गला (Galla)
Leg (लेग)
टांग (Taang)
Knee (नी)
घुटना (Ghutana)
Foot (फूट)
पैर (Pair)
Hand (हैण्ड)
हाथ (Hath)
Ear (इयर)
कान (Kaan)
Beard (बियर्ड)
दाढ़ी (Daarhi)
Neck (नैक)
गर्दन (Gardan)
Moustache (मौसटेक)
मूछ (Muchh)
Smiley face (स्माइली फेस)
हशमुख चेहरा (Hashmukh Chehra)
Wrist (वरिस्ट)
कलाई (Kalai)
Larynx (लार्यन्क्स)
कंठ (Kanth)
Thumb (थम्ब)
अंगूठा (Angutha)
Fingers (फिंगर्स)
उंगली (Ungali)
Little Finger (लिटिल फिंगर)
छोटी उंगली (Chhoti Ungali)
Ring Finger (रिंग फिंगर)
अनामिका (Anamika)
Index Finger (इंडेक्स फिंगर)
तर्जनी (Tarjani)
Belly (बेल्ली)
पेट (Pet)
Bone (बोन)
हड्डी (Haddi)
Palm (पाल्म)
हथेली (Hatheli)
Calf (कल्फ)
पिंडली (Pindali)
Head (हेड)
सिर (Sir)
Hip (हिप)
कुल्हा (Kulha)
Skin (स्किन)
त्वचा (Twacha)
Nail (नेल)
नाख़ून (Nakhun)
Blood (ब्लड)
रक्त (Rakt)
Fist (फिस्ट)
मुठी (Muthi)
Brow (ब्रो)
भौंह (Bhaunh)

More Body Part Name:-

Navel (नावेल)
नाभी (Nabhi)
Elbow (एल्बो)
कोहनी (Kohni)
Breast (ब्रेस्ट)
स्तन (Stan)
Nipple (निप्पल)
स्तन का अगला भाग (Stan Ka Agla Bhag)
Brain (ब्रेन)
मस्तिष्क (Mashtisk)
Eyelid (आईलीड)
पलक (Palaak)
Heart (हर्ट)
हृदय (Hraday)
Uterus (ऑल्टरस)
गर्भासय (Garbhasay)
Toe (टू)
पैर के उंगली (Pair Ki Ungali)
Thigh (थाई)
जांघ (Jangh)
Temple (टेम्पल)
कनपटी (Kanpati)
Spleen (स्प्लीन)
तिल्ली (Tillee)
Spine (स्पाइन)
रीढ़ (Reedh)
Skull (स्कूल)
खोपड़ी (khopadi)
Saliva (सलीवा)
लार (Laar)
Rump (रम्प)
चूतड़ (Chutad)
Rib (रीब)
पसली (Pasali)
Pulse (पल्स)
नाड़ी (Naadi)
Paw (पाव)
पंजा (Panja)
Palate (प्लेट)
तालू (Taalu)
Nostril (नोस्ट्रिल)
नथुना (Nathuna)
Nerve (नर्व)
नस (Nas)
Muscles (मस्कल)
मांसपेशी (MansPeshi)
Molar Teeth (मोलर टीथ)
दाढ़ (Daadh)
Middle Finger (मिडिल फिंगर)
बीच वाली ऊँगली (Beech wali ungali)
Lung (लंग)
फेफड़ा (Fefda)
Liver (लीवर)
जिगर (Jigar)
Kidney (किडनी)
गुर्दा (Gurda)
Joint (जॉइंट)
जोड़ (Jod)
Jaw (जॉव)
जबड़ा (Jabda)
Intestine (इंटेसटीन)
आंत (Aant)
Heel (हील)
एड़ी (Eidi)
Eyelash (आईलैश)
बरौनी (Barauni)
Eyeball (आईबॉल)
नेत्र गोलक (Netra Golak)
Embryo (एमब्र्यो)
भ्रूण (Bhrun)
Eardrum (इयरड्रम)
कान का पर्दा (Kaan Ka Parda)
Chin (चीन)
ठुड्डी, ठोला (Thuddi, thola)
Chest (चेस्ट)
छाती (Chhati)
Bun (बन)
बालो का जुड़ा (Baalo ka juda)
Body (बॉडी)
शरीर (Sharir)
Artery (आर्टरी)
धमनी (Dhamni)
Armpit, Womb (आर्मपिट, वोम्ब)
बगल, कांघ (Bagal, kangh)
Arm (आर्म)
बांह, भुजा (Banh, Bhuja)
Ankle (एंकल)
टखना (Takhna)
Read Also:
Human Body Parts Image (Human Body Organs) | मानव शरीर के अंगो का नामांकित चित्र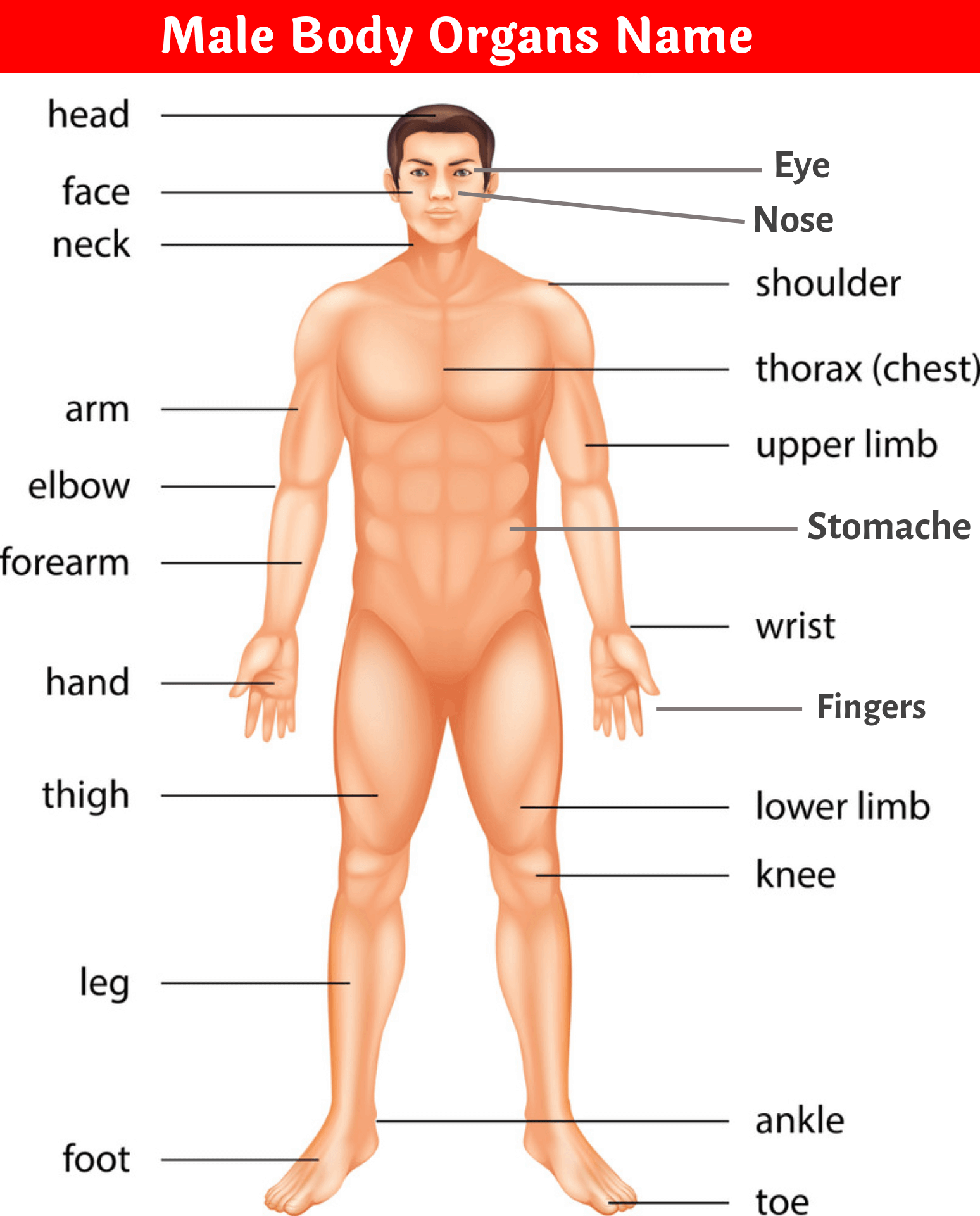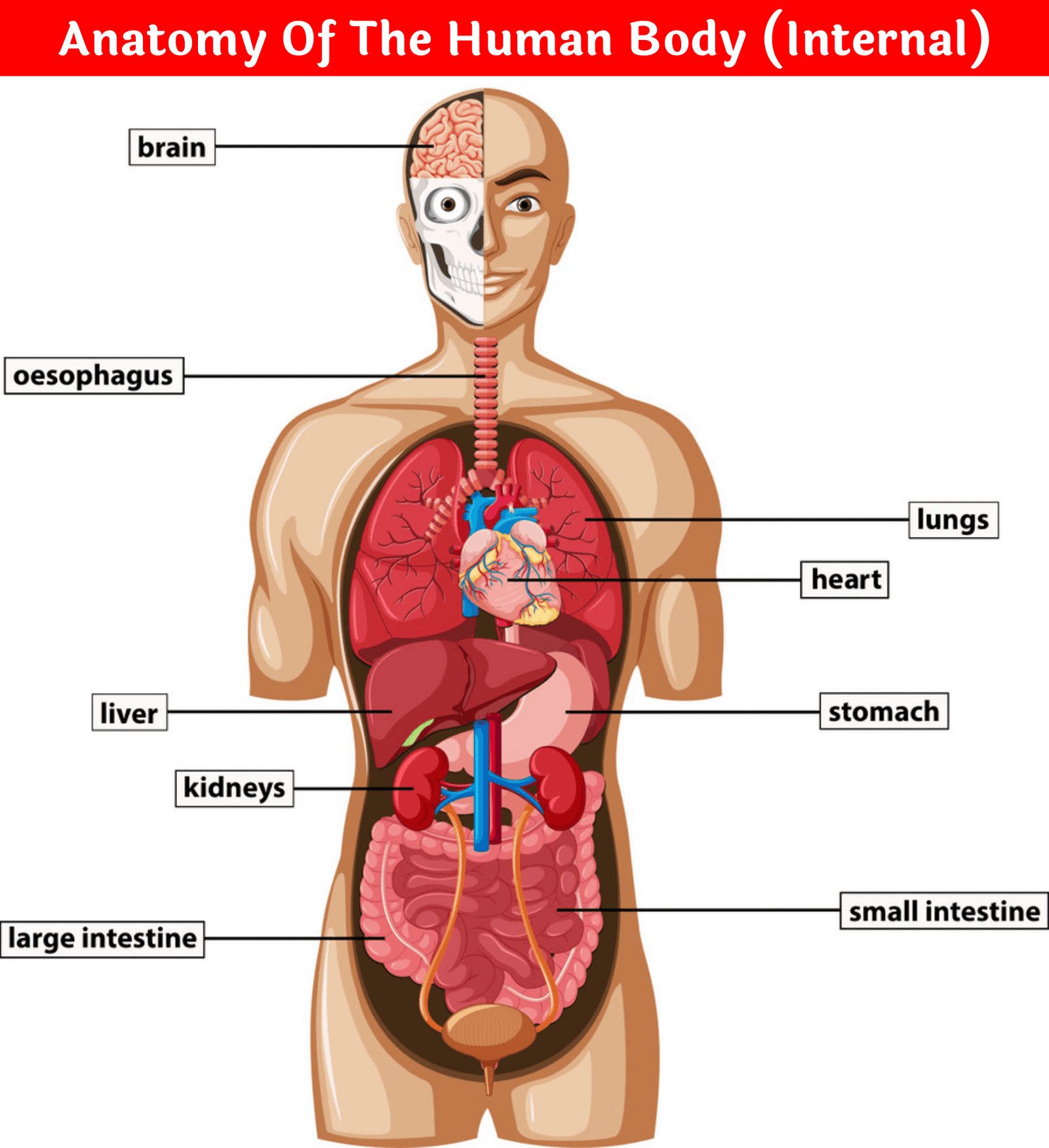 So, friends, this was a list of names of all body parts, in which we wrote almost 100 body parts names in both Hindi and English languages. Also, the image of that body part has also been attached to the side so that you can easily identify it by looking at the image.
Guys, many types of body parts are found in the human body. And we know the name of some of these parts but there are some body parts that we do not know about. We neither hear the names of such parts nor have we seen them.
This is because there are some parts that are outside in the body and we can see them easily. But there are also some parts which are inside the human body so these types of parts can't be seen by everyone.
For example, if you pay attention to the list given above, then you must know the hand, face, leg, etc. well. But the name of some part will also be seen that You wouldn't have seen with your eyes, for example, heart, lungs, kidney, etc.
Name Of Human Body Parts (अंगो के नाम) | Video Guide
If you want to learn about all the human body parts name in Hindi-English then here if a solution for this too. you can watch the below-given video to learn about the name of human body parts (मानव शरीर के अंगो के नाम)-
More Important Posts:
Conclusion
I hope you liked this post about the name of the body parts (organs name). In this post, I have given you the names of all the body parts in both Hindi and English languages ​​as well as I have given a photo of those parts. We all know that we all have our own bodies, so we should know about the names of body parts (शरीर के अंगो का नाम).
In conclusion, I would like to tell you that if you liked this post about "Human Body's Parts Name In English And Hindi" 10, 15, 20, 25, 30, 50, 100 body parts name, then do share it on social media. You must share it with your friends, relatives, siblings, children, etc. so that everyone can know the English-Hindi name of Body Parts.