Flowers name (फूलों के नाम): Do you like flowers guys? I think you also like flowers very much like me. There will hardly be any human in the world who will not love flowers because they look so cute and beautiful, attract anyone to themselves.
But question is, do you know all the flower names? I don't think you know about it. but don't worry. today you will get the complete list of all flowers names (Phoolon ke naam)
Flowers also have an important role in our life. Whether it is a wedding or someone's funeral, flowers will definitely be seen there. To honor someone by wearing a garland? Yes, flowers are also needed for this.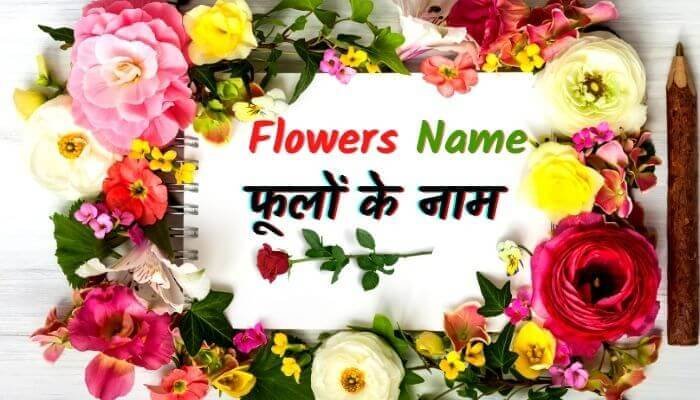 Actually, we are surrounded by flowers. Flowers at home, flowers at school, flowers at college, and even if someone wants to express their love, flowers are also needed. You must have seen that when a boy or a girl has to propose to someone, he does it only by giving flowers.
Everyone loves flowers, but very few people are those who know the name of flowers in both Hindi and English languages. Do you not even know the name of all the flowers? Do not panic Because, in this post, I am going to give you complete information about the name of the flowers. I will tell you Flowers's Name In English, Flowers's Name In Hindi, or the Name Of Flowers (फूलों के नाम). So let's jump into our main topic
Flowers Name In English-Hindi (फूलो के नाम) | Names Of Flowers
| Picture | Frower in English | Flower in Hindi |
| --- | --- | --- |
| | Rose (रोज) | गुलाब (Gulab) |
| | SunFlower (सनफ्लावर) | सूर्यमुखी (Surymukhi) |
| | Marigold (मैरीगोल्ड) | गेंदा फूल (Genda Phool) |
| | Pansy (पैन्सी) | बनफूल (Banphool) |
| | Palash (पलाश) | पलाश का फूल, ढाक (Palash Ka Phool, Dhak) |
| | Oleander (ओलिनडर) | कनेर (Kaner) |
| | Narcissus (नार्सिसस) | नर्गिस (Nargis) |
| | Murraya (मुर्राया) | कामिनी (Kamini) |
| | Mushroom (मशरूम) | छत्रक, छाता (Chhatrak, Chhata) |
| | Motia (मोतिया) | मोतिया (Motiya) |
| | Mesua Ferrea (मेसुआ फेर्रा) | नाग केसर (Naag Kesar) |
| | Lotus (लोट्स) | कमल (Kamal) |
| | Lily (लिली) | कुमुदनी (Kumudani) |
| | Lady's slipper orchid (लेडी स्लिपर आर्किड) | आर्किड फूल (Archid Phool) |
| | Jasmine (जास्मीन) | चमेली (Chameli), चमेली के फूल (Chameli ke Phool) |
| | Jasmine NightBloomimg (नाईट ब्लूमिन्ग) | रात-रानी फूल (Raat-Rani Phool) |
| | Hollyhock (हॉलीहॉक) | गुलखैरा (Gilkhaira) |
| | Hiptage (हिपटेज) | माधवी पुष्प (Madhwi Pusp) |
| | Hibiscus (हाईबिस्कस) | गुढल (Gudhal) |
| | Frangipani, Magnolia (फ्रंगीपानी, मैगनोलिया) | चम्पा (Champa) |
| | flax flower (फ्लेक्स फ्लावर) | सन, पटसन (San, Patsan) |
| | Erythrina (एर्य्थिरिना) | पारिजात (Parijaat) |
| | Daisy (डेज़ी) | गुलबहार (GulBahar) |
| | Dahlia (डेहलिया) | सूर्य मुखी कुल का फूल, सूर्य मुखी जैसा फूल (Surya Mukhi) |
| | Daffodil (डैफोडिल) | नरगिस (Nargis) |
| | Cypress Vine, Star Glory (साईप्रस वाइन, स्टार ग्लोय) | कामलता (KaamLata) |
| | Cobra Saffron (कोबरा सैफरन) | नाग चम्पा (Naag champa) |
| | chrysanthemum (च्र्य्संथेमम) | गुलदाउदी (Guldaudi) |
| | Bluestar (ब्लूस्टार) | असोनिया (Asoniya) |
| | bluewater lily (ब्लूवाटर लिली) | नीलकमल (Neelkamal) |
| | Balsam (बाल्साम) | गुल मेहँदी (Gul Mehandi) |
| | Arabian jasmine, Jasminum Sambac (अरबियन जास्मीन, जस्मिनम सम्बक) | मोगरा, मल्लिका (Mogra, Mallika) |
| | Anemone (एनेमोन) | |
| | Aconite (एकोनाईट) | कुचला (Kuchla) |
| | Tulip (ट्यूलिप) | कन्द पुष्प (Kand Pushp) |
| | touch me not (टच मी नॉट) | छुई मुई (chhui mui) |
| | Stramonium (स्ट्रामोनियम) | धतुरा (Dhatura) |
| | Primrose (प्रिमरोज) | बसन्ती गुलाब (Basanti Gullab) |
| | Prickly Pear (प्रिक्क्ली पीर) | नागफनी (NaagFani) |
| | Poppy (पॉपी) | खसखस, अफीम (Khaskhas, Afim) |
| | Periwinkle (पेरिविन्कल) | सदाबहार (SadaBahar) |
Read Also:
So, friends, this was a list of names of all flowers, in which we wrote more than 40 flower names in both Hindi and English languages. Also, the image of that flower has also been attached to the side so that you can easily identify it by looking at the image.
Guys, many types of flowers are found in the world. And we know the name of some of these flowers but there are some flowers which we do not know about. We neither hear the names of such flowers nor have we seen them.
This is because there are some flowers which are famous all over the world and are found everywhere. But there are also some flowers which are found only in particular places, maybe they are not so popular here.
For example, if you pay attention to the list given above, then you must know rose, lotus, sunflower, etc. well. But the name of some flowers will also be seen that you will be seeing for the first time.
Flower Name In Hindi And English | Video Guide (फूलो के नाम)
So, friend if you want to learn about all the flowers name in Hindi and English by watching the video then here is a solution for this too. you can watch below given video to learn about flower name-
Conclusion
I hope you liked this post about the name of the flower (flower name), phoolon ke nam, 10, 15, 20, 30, 40, 50 Flowers name list. In this post, I have given you the names of all the flowers in both Hindi and English languages ​​as well as I have given a photo of that flower. We all know that flower is very useful for us, so we should know about the names and benefits for flowers (फूलो के नाम).
In conclusion, I would like to tell you that if you liked this post about "Flower Name In English And Hindi-फूलो के नाम", Flowers name of kids, then do share it on social media. You must share it with your friends, relatives, siblings, children, etc. so that everyone can know the English-Hindi name of Flowers.