Hello, do you want to know what is Hindi meaning of brought or brought meaning in Hindi? (Brought का हिंदी मतलब) if yes, then your answer is here. Sometimes we use the word brought but we don't know what is meant by brought in the Hindi language.
Brought is the second form of bring and bring is a verb or we can say it is the past and past participle of bring. This is totally different with bought so don't be confused in both these words.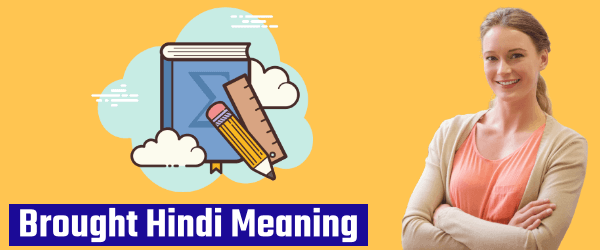 Example sentences of brought in English-Hindi
उसने मेरे लिए किताबें लाया
---
2. I have brought something for you.
मैंने तुम्हारे लिए कुछ लाया है'
---
3. My aunt brought me flowers
मेरी बुआ जी मेरे लिए फूल लायी'
---
4. Changes in diet should be brought on gradually.
भोजन में परिवर्तन धीरे धीरे किया जाना चाहिए'
---
5. You brought a new feeling into my shop.
तुमने मेरी दुकान को एक नयी पहचान दी है'
---
6. The good news brought tears to my eyes.
वह खुशखबरी मेरी आँखों में आँशु ले आई'
---
7. That was the end of the conversation and neither of them brought the subject up again that night.
यह बातचीत का अंत था और दोनों में से किसी ने उस रात फिर से इस विषय को नहीं लाया।
---
8. Raj, grown more manly and looking fresh, rosy and self-possessed, entered the drawing-room elegantly dressed in the uniform of an aide-de-camp and was duly conducted to pay his respects to the aunt and then brought back to the general circle.
राज, अधिक मर्दाना हो गया और ताजा, रसीला और आत्म-संपन्न दिखने लगा, ड्राइंग रूम में एक सहयोगी-डे-कैंप की वर्दी पहने कपड़े पहने हुए प्रवेश किया और विधिवत रूप से चाची के प्रति अपने सम्मान का भुगतान करने के लिए आयोजित किया गया और फिर सामान्य चक्र में लाया ।
---
9. The heavy rain brought the flood, causing damage.
भरी बारिश के साथ बाढ़ भी आई और उसने पहुत नुकशान पहुचाया'
---
10. Early in the morning, two elephants were brought to the door.
सुबह-सुबह दो हाथियों को दरवाजे पर लाया गया।
---
11. Do you wish it brought at once?
क्या आप इसे एक बार लाना चाहते हैं?
---
12. I brought all the sisters to pray for you.
मैं आपके लिए प्रार्थना करने के लिए सभी बहनों को लाया'
---
13. Will you have the computer brought in?
क्या आपके पास कंप्यूटर लाया जाएगा?
---
14. His toy brought back our happy childhood.
उनका खिलौना हमारे खुशहाल बचपन को वापस ले आया।
---
15. Is a man a genius who can order bread to be brought up at the right time and say who is to go to the right and who to the left?
क्या कोई व्यक्ति ऐसा जीनियस है जो सही समय पर रोटी लाने का आदेश दे सकता है और कह सकता है कि दाईं ओर कौन है और बाईं ओर कौन है?
---
Conclusion
In this article, you have read what is hindi meaning of brought or brought meaning in hindi (brought का हिंदी अर्थ), brought means in Hindi. If you liked this artice then please share it on social media by clicking below botton.
« Back to Glossary Index