Hello, do you want to know what is Hindi meaning of bought or bought meaning in hindi? (Bought का हिंदी मतलब) if yes, then your answer is here. Actually bought is a common word that is used in many sentences but if you dont know bougt meaning in Hindi then you can।t understand about it.
Bought Meaning In Hindi
Verb
खरीद लिया
खरीद लिया गया
खरीद लेना
ख़रीदा
ख़रीदा गया
Bought is the past tense of buy (bought buy का भूत काल है) and this is Totally different with word "brought"
Example sentences of bought in Hindi – English
उसने मेरे लिए एक कार ख़रीदा।
---
कल मैं बाजार गया था और आपके लिए किताबें ख़रीदा है।
Yesterday I went to the market and bought books for you.
---
मैंने उनकी कई किताबें डिस्काउंट पर खरीदी थीं।
I had bought his many books at a discount.
---
सभी मामलों में एक ही बेकरी में खरीदे गए कोका डी क्रेमा खाने की सूचना दी।
All the cases reported eating coca de crema bought in the same bakery.
---
उन्होंने नया एक घर ख़रीदा है जिसमे वो अपने परिवार के साथ हशी ख़ुशी से रहेंगे।
They have bought a new house in which they will be live happily with their family.
---
क्या आप जानते हैं की मैंने आपके लिए एक नया घर ख़रीदा है? शायद आप ये बात नहीं जान रहे होंगे क्योकि मैंने किसी को नहीं बताया था की मैं भी एक घर खरीदने वाला हूँ।
Did you know that I bought a new home for you? Perhaps you will not know this thing because I did not tell anyone that I too would buy a house.
---
bought का हिंदी में मतलब क्या है ? अगर आप जानते हैं तो कृपया मुझे बताइए।
What does the bought mean in Hindi? If you know, please tell me.
---
क्या आपने मेरे लिए एक भी किताब ख़रीदा है ? नहीं। इसलिए जाओ अभी मेरे लिए एक किताब खरीदकर आओ.
Have you bought a book for me? No. So go and buy a book for me now.
---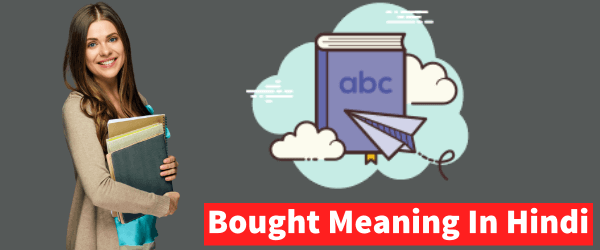 Conclusion
In this post you have read that what is Hindi meaning of bought, bought का हिंदी मतलब क्या है?, bought meaning in Hindi, Meaning of bought in hindi. If you liked this post then please share it on social media.