Owe Meaning In Hindi
Verb
एहसान में होना
कर्ज़दार होना
आभारी होना
देनदार होना
ऋणी होना
चाहना
धरना
बकाया होना
Adjective
बक़ाया
अभुक्त
उत्कृष्ट
दोषी
बाल अपराधी
विलंबित
अपराधी
Word Forms / Inflections
owed (verb past tense)
owing (verb present participle)
owes (verb present tense)
Definition And Hindi Meaning Of OWe
Have to pay or require to pay back money for something which has been taken from somebody and not given back to him.
Or in interchange of anything which they have done for you.
किसी ऐसी चीज के लिए भुगतान करना पड़ता है या पैसे वापस करने की आवश्यकता होती है जो किसी से ली गई है और उसे वापस नहीं दी गई है
या जो कुछ उन्होंने आपके लिए किया है, उसके बदले में।
Owe शब्द मायने:
किसी भी प्रकार का कर्जा जिसका भुगतान न किया हो उसे owe कहते हैं या फिर किसी वस्तु या पैसे का समय पर वापस न कर पाना कर्जदार होना कहलाता है।
Owe meaning in Hindi और अच्छे से समझने के लिए निचे दिए गये वाक्यों का example जरुर पढ़ें। इन सभी वाक्यों में owe वर्ड का use हुवा है तथा वाक्यों का हिंदी ट्रांसलेशन भी बनाया गया है।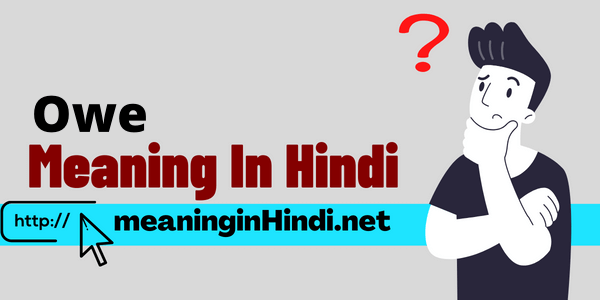 Example Sentences Of Owe In English-Hindi
I think you owe me an explanation.
मुझे लगता है कि आप मुझे एक स्पष्टीकरण देना चाहते हैं।
I owe you an apology, my friend.
मैं आपसे माफी मांगता हूं मेरे दोस्त।
I owe you some amount of money.
मेरे ऊपर कुछ पैसे बकाया हैं।
Before she went, she owed him the truth.
उसके जाने से पहले, उसने उसे सच्चाई दी।
She owed nothing on him.
उसका उस पर कुछ भी बकाया नहीं था।
I owe you less than you could ever know.
आप जितना जान सकते हैं, उससे कम मैं आपका ऋणी हूं।
You owe me for your mission.
आप मुझे अपने मिशन के लिए ऋणी हैं।
Do I owe you anything additional?
क्या मुझे आप पर कुछ अतिरिक्त बकाया है?
I never owe you anything.
मेरे ऊपर आपका कुछ भी बकाया नहीं है।
I owe you useful advice
मैं आपको उपयोगी सलाह देता हूं।
I think you owe his father an apology for your misbehave
मुझे लगता है कि आप अपने दुर्व्यवहार के लिए उसके पिता के लिए क्षमा चाहते हैं।
I owe this passion to my college mate rama
मैं इस जुनून का श्रेय अपने कॉलेज मेट रामा को देता हूं।
You still owe me for the movement you were in America.
आप अभी भी उस आंदोलन के लिए मेरे ऋणी हैं, जो आप अमेरिका में थे।
Synonyms of owe
चलिए अब owe के समानार्थी शब्दों को जानते हैं:
be indebted to
be obligated to
become beholden
bind out
be under obligation
be bound to pay
have borrowed
belong
give to
be in debt for
have signed a note for
payback (related)
be subject to draft for
settle
repay
have an obligation
feel bound
be contracted to
have lost
Antonyms of owe
नीचे दिए गए शब्दों को owe के विपरीतार्थी के रूप में इस्तेमाल किया जाता है:
pay
resolve
settle
Achieve
clear
complete
conclude
decide
determine
end
establish
deadline
edge
point
term
top
borderline
bound
boundary
Owe: English To Hindi Dictionary
Here you have read about the Definition and Hindi meaning of Owe, Hindi translation of Owe with similar and opposite words, synonyms, and Antonyms of Owe. You also learned the right spoken pronunciation of Owe in Hindi and the English language.
If you liked this dictionary word meaning article about Owe meaning in Hindi (Owe मीनिंग इन हिंदी) or Owe का हिंदी अर्थ-मतलब, Owe का मीनिंग, with examples sentences then share this on social media. This article about Owe meaning in Hindi will always help you to speak and understand English and Hindi language.